Description


STABILISED KNEE JOINT WITH LOW-PROFILE HINGED SIDEBARS
The GenuTrain S active support with lateral joint splints supports the knee joint for indications of slight instability, arthritis or osteoarthritis of the knee. An integral, ring-shaped pressure cushion (pad) surrounds the kneecap, while the interplay of the knit and the pad provides intermittent compression massage, thereby activating the musculature and stimulating the healing process. The combination of joint bars and a strap system in the GenuTrain S provides added passive support for the knee.
Benefits:


stabilizes the knee joint and activates the muscles

breathable Train Active Knit for high wearing comfort

anatomically contoured bars for secure support
PRODUCTS DETAILS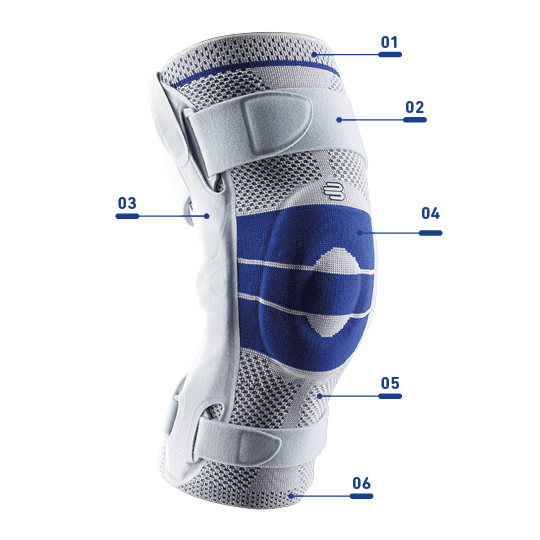 01 Three-dimensional Train active knit - for the ideal fit and optimal neuromuscular joint stabilization
02 Tensioning straps - with micro Velcro fastener, individually adjustable, flat-fitting design
03 Joint splints - for the mechanical stabilization of the knee joint
04 Viscoelastic pads - with a massage effect during movement
05 Breathable Train active knit - gentle on the skin and extremely comfortable to wear
06 Reduced pressure at the edges - prevents constriction
BARS FOR ADDED PROTECTION
In the GenuTrain S (S for splints), lateral joint splints guide the knee's movements. The bars can be heated and reshaped and can therefore be adjusted to the anatomy of each individual. The joint muscles are stabilised further by the elastic Train Active Knit with its integral pad.
GUIDES AND MASSAGES
The integral elastic padded ring round the kneecap cannot slip. It helps to position the support correctly and adapts itself to the angle of the knee joint during every movement. This produces a massage effect which activates the surrounding muscular tissue and stimulates circulation. The GenuTrain S, with its medically effective interaction of compression and massage, accelerates the reabsorption of edema and effusions. Muscular control is improved and the knee receives more active support.
Treatment of:
Arthritis of knee

Rheumatoid arthritis

Bone on bone arthritis

Strained/ruptured medial collateral ligament of the knee

Strained/ruptured lateral collateral ligament of the knee

Advanced knee sprain

Mild to moderate knee instabilities

More advanced meniscus tears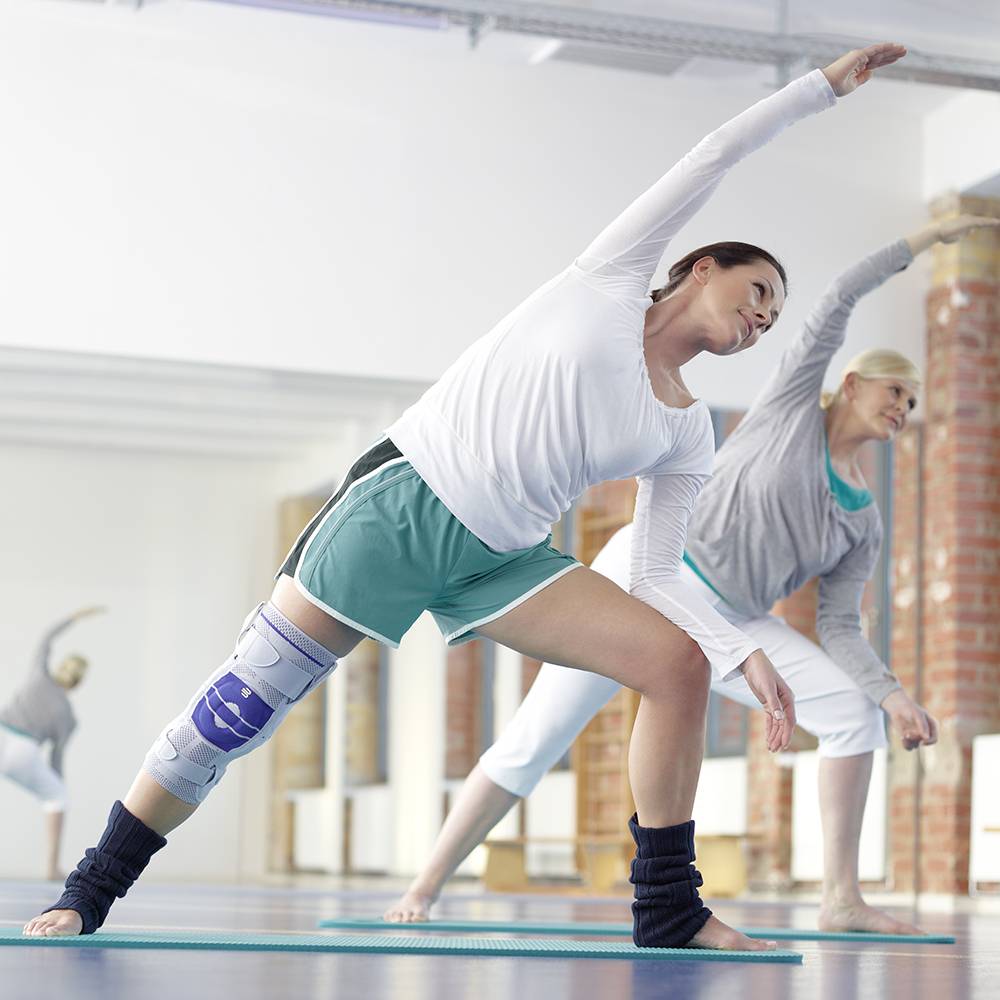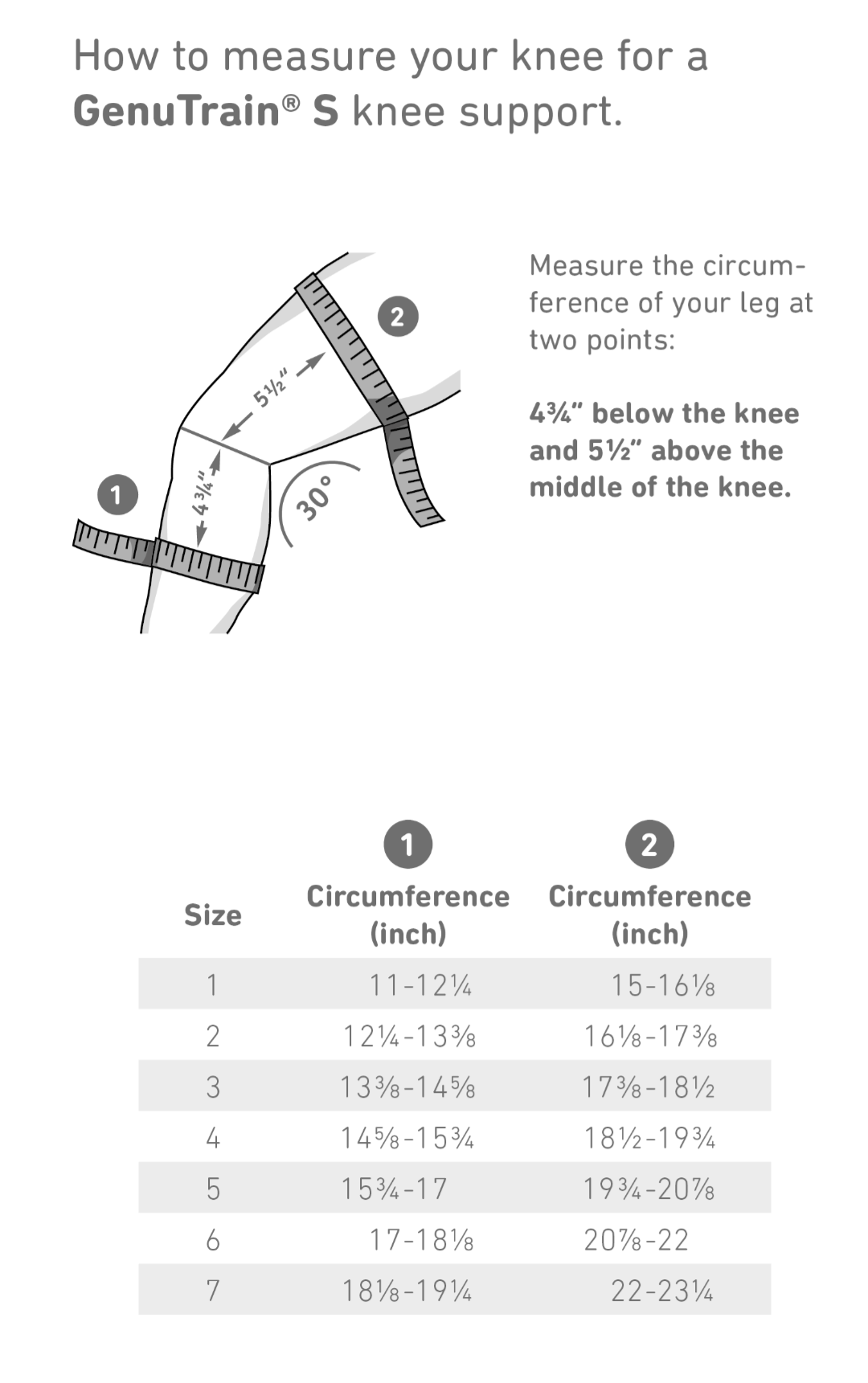 Box contains 1 product and 1 user manual.